Lon's Featured Properties
Sedona Sales Charts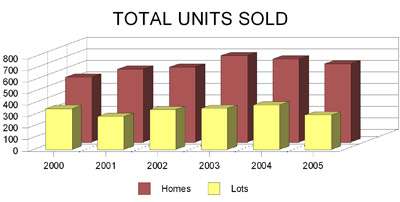 TOTAL UNITS SOLD
This indicates pure numbers sold and is not related to price. "Homes" include site-built single-family dwellings, condominiums, and mobile homes. The trend is up for homes and lots in dollar volume, but down in total numbers. For site-built, single-family dwellings, there was a decrease of 41 fewer homes sold in 2005 over 2004, a 9% decrease, slowing the dramatic upward trend we've had over the last five years. The year of 2005 was not kind to lot sales, down 22% over last year's good showing. As a side note, lot sales under $200,000 are almost non-existent now as fewer are on the market, and significant appreciation sets in.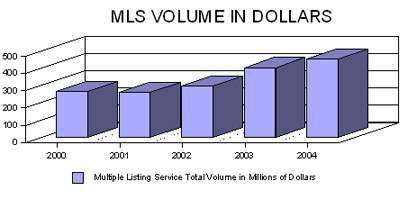 MULTIPLE LISTING VOLUME IN DOLLARS

This is certainly a happy story for 2005. Total sales figures were very strong, especially in the "homes" sector. Total MLS volume in dollars was up over $120 million over last year a 26% rise. Sedona is still looking exceptionally strong with a good market and a very bright future. The overall trend is, clearly, upward. This is not unexpected since the number of properties available is limited. Complete build-out of Sedona is still expected to be in the year 2017; however at the current rate of building, it may come earlier.
The average transaction value for homes was up again last year to well over $400,000. The typical market time, in virtually all categories of homes, is down slightly.
"The Lon Walters' Team" 2004 Real Estate Roundup Source: Multiple Listing Service of the SVVA